Detox + Debloat SET
Regular price
268,00 PLN
Sale price
199,00 PLN
199,00 PLN
Najniższa cena z 30 dni przed obniżką
Unit price
per
Sale
Sold out
The perfect set that will help you cleanse your body and restore it to a state of balance.
All the greens you need:
Maintaining proper body weight

Resistance

Antioxidant support
Diet supplement ALL THE GREENS YOU NEED has been prepared for people who want to support vitality and keep their body in good condition. It is characterized by antioxidant properties and supports the immune system. The supplement also helps maintain normal body weight.

Net weight: 200 g.
40 daily portions.
Too much water:
Removing water from the body

Maintaining proper body weight

Appetite control

Digestive support

Antioxidant protection
Too much water dietary supplement was developed for people who want to eliminate excess water and toxins from the body.
Diet supplement Too much water through the ingredients it contains:
supports the removal of water and metabolic by-products from the body

 

(dandelion, nettle, coriander)
ensure

 

antioxidant protection of DNA, proteins and lipids

 

(extract of grapevine, green tea, dandelion and coriander)
supports v

 

achieving and maintaining proper body weight

 

(green tea)
nourishes the body

 

(nettle)
ensure

 

supporting the proper condition of hair, skin and nails

 

(nettle)
supports the fight against cellulite

 

(vine extract)
Support

 

fat metabolism, normal glucose levels

 

(prickly pear extract)
controls appetite

 

(prickly pear extract)
90 capsules - 45 days of use
Share
Ingredients

All the greens you need
Ingredients: spirulina Arthrospira platensis, chlorella 50% Chlorella vulgaris, wheat grass Triticum vulgare, powdered matcha leaves Camellia sinesis.

Too much water
Ingredients: dandelion root extract Taraxacum officinale L. DER 4:1, capsule shell (hydroxypropyl methylcellulose), green tea leaf extract Camellia sinensis L. DER 5:1 standardized to 45% polyphenols, prickly pear herb extract Opuntia ficus-indica L . DER 10:1, nettle herb extract Urtica dioica L. DER 10:1, grapevine fruit extract Vitis vinifera L. DER 100:1
Warning

Do not exceed the recommended daily dose. Do not use if you are allergic to any of the ingredients of the preparation. The dietary supplement is intended for people over 18 years of age. A dietary supplement cannot be used as a substitute for a varied diet and a healthy lifestyle. It is important to eat a balanced and varied diet. Pregnant women, breastfeeding mothers and people taking medication or who are sick should consult a doctor before taking it.
Storage method

Dietary supplements should be stored out of the reach of small children. Store at room temperature, protect from light.
What not to combine with?

All the greens you need and Too much water can be combined with all the supplements from our offer.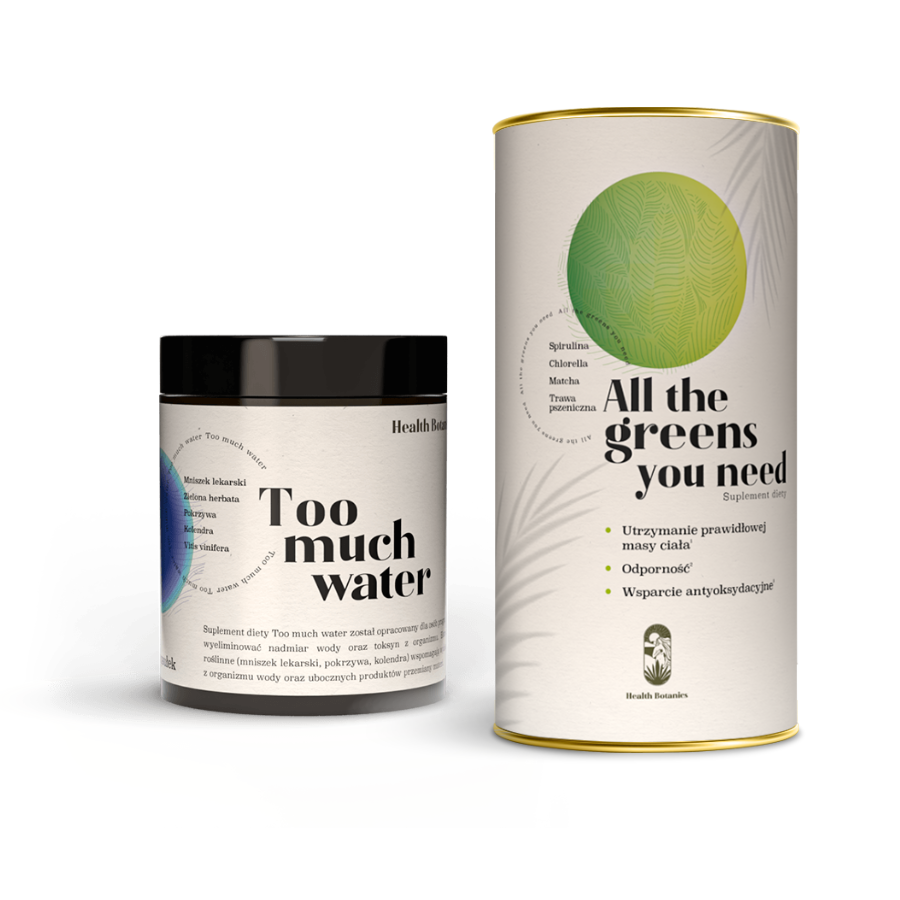 - supports the immune system,
- helps maintain proper body weight,
- has anti-allergic properties,
- supports antioxidant and anti-inflammatory properties,
- supports antiviral properties,
- supports antibacterial effects,
- helps maintain normal blood glucose levels

- helps protect DNA, proteins and lipids against oxidative damage,
- helps maintain proper body weight,
- supports the body's immunity,
- supports body nourishment,
- takes part in the proper course of cognitive processes
- supports the functioning of the cardiovascular system,
- increases beta-oxidation of fatty acids, leading to the reduction of adipose tissue

- supports liver function,
- supports immunity,
- keeps the body in good condition,
- supports the removal of heavy metals from the body,
- has antioxidant properties,

- contains vitamin C, A, E and B vitamins,
- is a source of substances such as folic acid, zinc, chromium and iron,
- is a source of protein and dietary fiber